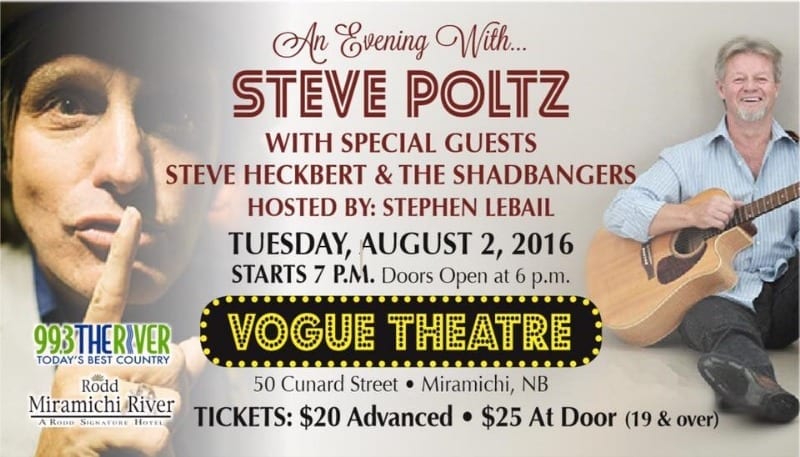 On Tuesday August 2nd, 2016 the Vogue Theatre in the Historic Chatham Business District presents "An Evening with Steve Poltz with Special Guest Steve Heckbert and the Shadbangers". This will be Steve Poltz's first performance in Miramichi and his only stop in New Brunswick. Poltz was born in Halifax and grew up in Southern California. If you're not familiar with his name, you are most certainly familiar with his music. Whether it's from movie soundtracks like
Notting Hill
("Everything About You") or the song he co-wrote with his girlfriend at the time, Jewel ("You Were Meant For Me") that reached #2 on
Billboard's
Hot 100 song charts. As good as his albums are (and they're very, very good), Steve positively owns a crowd when he's on stage. His shows are the stuff of legend – no two are alike – and can take an unsuspecting audience from laughter to tears and back again in the space of a single song. It's also worth mentioning that he is an astonishing guitar player on top of everything else. He is quite possibly the most talented, and engaging, solo performer on this planet. That's what 250+ shows a year on three continents will do for you. Also performing is singer songwriter Steve Heckbert. His album
Bottoms Up
 should be part of every Miramichier's record collection. It was recorded in 1982 with his band the Shadbangers. In 2011, he initiated a three year project that published a trilogy of albums of original songs made in Miramichi. The Shadbangers Ball was born and Steve and the band lived up to their credo: Fun First! He will be opening the show with a solo set and will perform with his fellow Shadbangers for a grande finale! The host for the evening is Stephen LeBail. He is sure to entertain and keep things moving along. An accomplished actor from Miramichi who has appeared in productions such as
Murdoch Mysteries
,
Call Me Fitz
and the
Rick Mercer Report
. He was most recently in an episode of
Mr. D
where the creator and main character, Gerry Dee, says he stole the show and made his scenes 10 times funnier! This is a licensed event (19+). Tickets are $20 in advance and $25 at the door. Advance tickets available at Ben's Lunch Room, Mill Cove Coffee, and the Rodd Miramichi River Hotel. This event is sponsored by the Rodd Miramichi River Hotel and 99.3 The River. The post
An Evening with Steve Poltz at the Vogue Theatre
appeared first on
Giver on the River
.